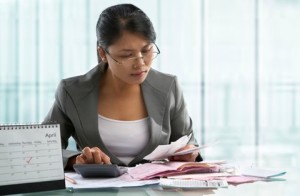 If you have given any consideration to the pursuit of a career within the field of accounting, the following question may have come to mind: "What is a staff accountant?" Opting to pursue a career as a staff accountant can be personally fulfilling and professionally rewarding for several reasons. By reading the data listed below, you can gain a basic overview about this field and subsequently determine whether it would be the right vocational sector for you to enter.
The Staff Accountant – A Definition
A staff accountant is an individual who manages financial data by analyzing and researching accounts as well as preparing financial statements.
Staff Accountant – Roles and Responsibilities
As with many jobs, positions within accounting will involve roles and responsibilities that differ based on the company that the employee works for. In many cases, staff accountants who work for smaller companies will have more bookkeeping duties. On the other hand, staff accountants who work for larger companies tend to find themselves performing more supervisory duties. Generally, however, all staff accountants will fulfill the following roles and responsibilities:
Maintenance of the business's general and subsidiary accounts (this will include the preparation of opening and closing journal entries)
Preparation of financial statements (such as balance sheets, cash flow statements, and income statements)
Supervision of those who occupy clerical positions
Assisting senior accountants when necessary
Completing specific projects requested by management
Bank reconciliations
Performing account reconciliations
Maintaining accounts (payroll accounts/accounts payable/accounts receivable)
Maintaining payroll records and employee files
Preparing purchase requisitions and check requests
Preparing loan packages and invoices
Maintaining banking relations
Cash management (which can incorporate the preparation of wire transfers)
Staff Accountant – Types
There are a variety of different types of staff accountants that a company can employ. Typically, they fall into three distinct categories: tax, cost, and general. While cost and tax accountants place primacy on cost accumulation in light of earnings or tax issues (respectively), general staff accountants deal directly with a company's corporate books, financial statements, and budgets.
Skills/Qualifications
There are a plethora of skills and qualifications that individuals who want to be successful within the field of staff accounting will need to have. Some of them include:
Accounting
SFAS Rules and Regulations (Statement of Financial Accounting Standards)
Reporting Skills
Ability to Meet Deadlines
Time Management Skills
Detail-oriented
Confidentiality
Proficiency with PC
Productivity
Verbal Communication Skills
General Math Skills
Staff Accountant-Salary
According to the Chronicle, accountants earned an average annual salary of $70,130 in 2011. The type of salary earned will vary based on a variety of factors, including what sector an individual works in. For example, accountants that work in fields such as the commodities industry, securities, or for the federal government can expect to earn more than the national average. Other factors that can determine annual income include education, experience, areas of expertise, and physical location.
Related Resource: Investment Accountant
Conclusion
If you have given any consideration to pursuing a job in the field of staff accounting, you should know that doing so can be professionally rewarding and personally satisfying. Because the information listed above provides you with a basic answer to the important question "What is a staff accountant?," it can be used to help you decide whether a career in this field would be ideal or advantageous for you.