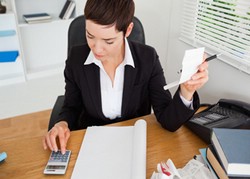 In today's economy, there is a wide variety of accounting degree careers that are both rewarding and lucrative. An accounting degree provides instruction on the accounting field and the steps of assessing and disseminating essential financial information to individuals and organizations to help make effective financial decisions. Coursework commonly includes economics, business law, statistics, principles of accounting, and financial accounting. An accounting degree provides a variety of benefits, such as eligibility to take the examination to become a certified public accountant and the ability to work in a variety of different industries.
Examples of accredited schools offering top accounting degree programs include the University of Chicago, University of Pennsylvania, and Stanford University. The University of Chicago offers a master's degree and doctoral degree in accounting. The master's degree program is a MBA with focus in accounting and features a flexible curriculum that enables students to customize their learning experience. The University of Pennsylvania's accounting department is committed to a multidisciplinary approach in the accounting field and it incorporates economics and finance concepts into the programs to provide well-rounded learning. The University of Pennsylvania offers a bachelor's degree, MBA, and doctoral degree in accounting. The accounting division of Stanford University features top teaching and research opportunities that are related to today's market. A MBA in accounting and PhD in accounting are available from Stanford.
What You Can Do With an Accounting Degree
There is a large range of accounting jobs for individuals who have graduated with an accounting degree. A career in accounting is not just restricted to the business field, because companies and organizations in nearly all sectors require accounting services. Individuals can work in public, private, and non-profit areas in many different fields.  For example, one may work as a internal auditor for a private company and another may work as a healthcare accounting specialist in a medical facility.
Examples of positions in public accounting include tax managers and accounting managers. Those choosing to work in the private sector may pursue jobs as management accountants or internal auditors. Non-profit accounting positions commonly include government accountants. Tax managers prepare tax forms, research tax laws, ad provide advice to clients regarding tax related issues. They also help organizations manage their tax risks and improve methods for tracking spending and income. The average yearly salary for tax managers is around $74,000. Accounting managers are responsible for directing all financial reports tasks and they develop and maintain procedures to make sure financial statements are complete and accurate. These professionals typically earn about $68,000 per year.
Management accountants work for private companies and they evaluate financial information to make effective decisions. They are concerned with business planning and budgeting for the company. The average annual salary for management accountants is around $64,000. Internal auditors are employed by organizations to help assess internal operations and processes to make sure the entity is abiding by regulatory standards. These professionals usually earn around $71,000 per year. Government accountants assist government agencies with the preparation and recording of financial information and makes sure it meets professional standards. They commonly earn around $65,000 yearly.
This is small selection of rewarding and lucrative accounting jobs. Those with proper education and diligence can no doubt achieve stable and fascinating accounting degree careers.