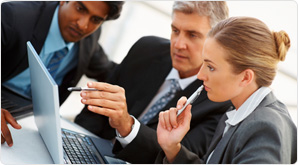 For individuals with an aptitude for analysis, numbers, and attention to detail accounting may well be the perfect career path and there is a wide variety of accounting degree jobs available. High levels of formal education are typically required to attain employment in the industry. A Bachelor of Accounting and Bachelor of Science in Accountancy are the two most common educational standards for employment eligibility. Students are taught methods for analyzing audit and financial information, records maintenance, and budget management. Core curriculums and supporting classes often involve business law, fraud investigation, ethical accounting, and more.
There are many accredited institutions which offer accounting degrees. The three ranking establishments, however, are the University of Texas, the University of Illinois, and Brigham Young University. Texas and Brigham Young both are highly selective in their enrollment process while Illinois boasts an impressive percentage (34%) of classes under 20 students and a student-faculty ratio of 18:1. All three of these schools have top-notch, industry-respected faculty.
Related Resource: Top 10 Online Bachelors in Accounting Degree Programs
Popular Accounting Degree Jobs
1. Internal Auditors
For the top rated accounting job, look no further than Internal Auditor. With up-to-date knowledge of the latest government regulations, auditors streamline controls and satisfy compliance mandates. The internal auditor covers a broad spectrum within an organization including financial reporting reliability, operation efficacy, and fraud deterring. Though they engage in a number of places, auditors do not execute company policy. They are advisers, helping management and Board Directors better implement their responsibilities.
Salaries have risen for this career. The expected salary range for internal auditors in large companies is $77,000-$101,000.
2. Compliance Executive
Compliance executives align corporations with the latest laws and regulations. In much the same way as software development must comply with unique specifications, compliance executives ensure that business practices comply with legislation established to protect shareholders along with the general public from errors and deceptive accounting practices.
High profile scandals, such as the Enron incident of the late 90s, provided the biggest impetus for the development and standardization of this position. Because of demand surges beginning salaries for compliance executives are projected to increase by 14.4% from $195,309.
3. Financial Analyst
Assisting with forecasting and budgeting initiatives, financial analysts have become more and more needed as companies grow. Employed with banks, insurance agencies, securities firms, and more, analysts are one of the fastest growing accounting fields today.
These individuals take financial statements and provide analysis on sales, commodity prices, costs, tax rates, and expenses to discover the value of a company and forecast future earning potential. Normally financial analysts assess modern business trends, products, and competition as well as staying current with new industry-impacting regulations and national economic statuses.
These positions are in heavy demand, especially at managerial levels. Median salaries of $49,839 are expected to increase by 5-6%.
4. Staff Accountant
While the glamor may have evaporated from the career, staff accountants have long played a crucial role as a foundational element for any company. These individuals employ the principles of accounting to a designated area of accounting or funding group. They assemble financial data, process account entries, and resolve reports. In addition, staffers must be acquainted with laws and regulations specific to accounting compliance.
With at least 3 years of experience, these positions garner a median salary of $51,000. Those in larger companies should expect to see a wage increase of 5% for the coming year.
5. External Auditors
When enterprises need an outside evaluator to review records and advise on possible material misstatements or fraudulent entries, an External Auditor is acquired. Besides reviewing available records, external auditors also investigate inquiries by financial authorities. They may also assess procedures dealing with information technology controls and provide an overall internal controls rating.
A steady increase in demand for these independent agents makes those with over three years of experience especially valuable to companies. The average salary for an external auditor is $59,513.
These are just a small selection of rewarding and lucrative Accounting Degree jobs and, thanks to steadily rising demand, those with proper education and diligence can no doubt achieve a stable and fascinating career.