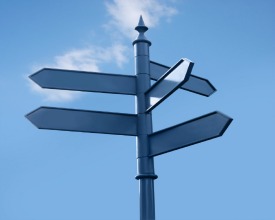 People who choose to earn business degrees have many options available to them, and understanding the difference between an accounting degree vs. finance degree helps clarify career choices.
Accounting is the practice of generating and investigating an organization's financial records in accordance with generally accepted accounting principles. Accounting courses teach students how to keep track of organizational funds and ensure taxes are paid so that organizations operate smoothly and efficiently from a fiscal perspective. There are three types of accounting degree programs including associate, undergraduate, and graduate degree programs. Most jobs require that those working as accountants have at least an undergraduate degree in accounting from an accredited university program. Accountants wishing to advance in their career field often earn a master's degree in accounting; this accounting degree program is typically completed within two years. According to U.S. News Business Schools Compass, the University of Texas at Austin has the nation's top-ranked accounting degree program. Some typical courses include cost, financial, and managerial accounting.
Finance degree programs include associate, undergraduate, graduate, and doctorate options. Finance courses prepare students to protect the financial health of organizations often by planning and directing its investment activities. Examples of finance courses include economics, financial markets, and investment management. The Wharton School of Business at University of Pennsylvania has the highest ranking of all the nation's finance degree programs.
The accounting career field appeals to business professionals with strong quantitative skills and attention to detail; these people also enjoy working within a rule based, structured business environment. Successful finance professionals, like their accounting counterparts, possess hefty analytical skills, but they also enjoy creating innovative plans for strategic financial growth.
Accounting Degree vs. Finance Degree Career Options and Job Placement
Ultimately, the choice between earning an accounting degree or a finance degree depends upon one's career goals and personal interests. Examining the nation's top ranking business schools leads to the discovery of the best finance degrees. For instance, the Wharton School provides students with solid business fundamentals and then allows them to build on that foundation with challenging concentration coursework. University course work equips students to embark upon a finance career with job options including financial analyst, financial planner, investment banker, or a financial manager. Identifying the best accounting degrees depend upon understanding one's career path. For example, students passionate about using their accounting skills to fight white-collar crime often earn degrees in forensic accounting. Those who aspire to an accounting career at a multinational company will want an accounting degree concentration that includes many international accounting courses.
There are some common elements and overlapping functions between the accounting and finance career fields. However, accounting involves properly tracking company funds while finance seeks to grow company value; this is the basis for the distinct difference between the accounting degree vs. finance degree.
Related Resource: Accounting Degree Careers