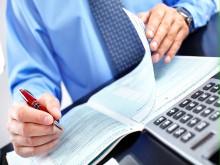 Accounting is an essential component of nearly all businesses and organizations, and becoming a CPA is a good choice for those who are good with numbers and pay close attention to detail. Accounting degrees are offered at all levels from associate to doctorate.
An associate degree in accounting prepares individuals for entry-level positions, like bookkeepers or accounting clerks. This degree involves coursework covering the basic principles of accounting and statistics and takes about two years to complete. Courses may include cost accounting, business management, and payroll management. In general, there are no prerequisites for an associate degree in accounting.
A bachelor's degree in accounting takes typically takes four years to complete and provides more in-depth instruction of the field. Students commonly complete courses in statistics, economics, tax planning, business law, accounting theory, and fraud analysis. Students are usually required to complete general education courses prior to admittance to bachelor's degree programs in accounting.
A master's degree in accounting is an advanced degree that prepares students to work in upper level positions and the programs mainly focus on the fundamental concepts of accounting and effective accounting methods. This degree commonly takes at least one to two years of intensive study and the coursework may include financial accounting, corporate financial reporting, auditing and assurance, business taxation, and financial decision making. An undergraduate degree is needed to gain acceptance into a master's degree in accounting program and if a student does not have a degree in accounting he or she may need to complete prerequisite courses in basic accounting, statistics, and pre-calculus.
A doctorate degree in accounting is an advanced degree that focuses on specialized topics and research in accounting. It requires a master's degree and at least three to five years accounting experience. The coursework includes doctoral seminars, advanced accounting courses, and quantitative study and statistics. It also requires a dissertation. Doctoral programs typically take four to five years to complete.
Steps to Becoming a CPA
While there are a variety of accounting degree programs out there, good options are offered by schools that are accredited and have a good ranking from authoritative organizations, such as the U.S. News and World Report. The University of Texas Austin and Southern New Hampshire University are examples of top schools that offer accounting degree programs. The University of Texas offers accounting degree programs at the bachelor's, master's, and doctoral levels and the curricula are innovative and feature unique learning experiences. This school is ranked number one by the U.S. News and World Report. Southern New Hampshire University offers a high rated bachelor's degree in accounting entirely online. The program focuses on equipping students with the necessary in-depth accounting abilities to succeed. In addition to completing an accounting degree, individuals must take an examination to become licensed as a CPA.
After Becoming a CPA: Career Options
The job outlook for the accounting field is good, with an average growth rate. After passing the examination and becoming a licensed CPA, there are a variety of career opportunities including public accountant, government accountant, forensic accountant, and non-profit accountant. Public accountants work for companies that provide services to an array of clients. These CPAs commonly earn between $47,000 and $75,000 per year. Government accountants work at the local, state, and federal levels and often earn an average of $35,000 to $62,000. Forensic accountants concentrate on providing the necessary information to investigate financial crimes. They commonly act as witnesses in legal proceedings. Forensic accountants earn between $40,000 and $80,000. CPAs who work for non-profit organizations assist in maintaining strict financial budgets. They help with a variety of tasks including fund raising and balancing expenditures. Non-profit accountants earn between $32,000 and $48,000. As you can see, becoming a CPA can lead to a rewarding and lucrative career.