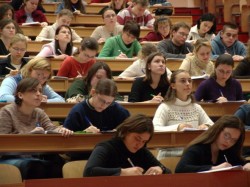 All accounting degree courses help prepare students for success in the business world. These courses give students the foundation they need to become a CPA or a partner in an accounting firm. In addition, the courses also help prepare those who wish to pursue a career in finance or corporate management.
Five Popular Accounting Degree Courses
1. Intermediate Accounting
Regardless of the school, all students are required to take intermediate accounting. This class introduces students to a broad level of accounting theory. While taking this course, students learn about accounting principles, financial ratio analysis, equity, investment strategies and financial statement preparations. Although prerequisites vary by school, most students are required to complete statistics before they can take intermediate accounting. Sometimes, students who are majoring in economics, finance or business administration are also required to take intermediate accounting classes.
2. Ethics and Leadership
The University of Texas at Austin requires accounting students to take a course in ethics and leadership. Since the course has no prerequisites, students can take it any time before their graduation. This course exposes students to ethical dilemmas to help prepare them for real-life situations. Instructors give students the tools they need to help them make ethical decisions in their professional life. Most accounting students across the country are required to take an ethics class; however, the coursework is not unique to just accounting students.
3. Tax Accounting
This course helps prepare students for the public and private industry. Students must first complete their introduction to accounting courses before they can take tax accounting. During this course, students will learn about federal income tax compliance. Along with that, they will also learn how to prepare taxes for individuals and small businesses. An advanced form of the class is also available for students to take. During the advanced tax accounting course, students will learn how to prepare taxes for partnerships, corporations, estates and trusts.
4. Auditing
At Rutgers Business School, accounting students must pass an auditing class. This course teaches students about auditing standards and procedures. Prior to taking the course, students are required to complete coursework in statistics and intermediate accounting. Other students can take this course if they want, but they do not need to. Auditing is a vital part of accounting; therefore, students have a lot of standards to learn and follow. Instructors focus their time on helping students understand auditing and assurance services.
5. Cost Accounting
When taking this course, students learn various principles and theories of cost accounting. Most schools place an emphasis on managerial decision support. For example, they focus on deriving accounting information from different costing systems. In addition, students also learn how to prepare, interpret and analyze reports and spreadsheets. Although the prerequisites vary by school, most students must complete statistics and general economics before they can take cost accounting. This class is not exclusive to the list of accounting degree courses and is also taken by some finance majors.
Related Article: Top Accounting Schools