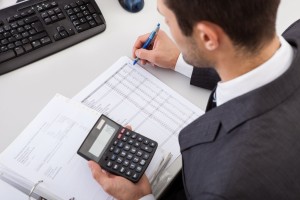 For those of you currently researching the financial industry, you might be wondering what an investment accountant does. With titles such as accountant, auditor, and investment accountant, you might as well assume that each word is simply another way to describe the practice of accounting. However, these jobs are actually separate professions.
Overview
Unlike a general accountant that handles an individual's or business's expenses or an auditor that reviews the accuracy of those expenses, an investment accountant works explicitly in the brokerage and asset management industry. Investment accountants can work in a number of roles within the industry, but are usually found in managerial and supervisory roles while also providing other services such as consulting and financial advice. These individuals are highly analytical, have a strong mathematical ability, high-level logic, and a keen eye for observation. Due to the analytical nature of their position, they are often trusted with a number of functions.
Functions
One of the key ways to answer what an investment accountant is would be to highlight the main job functions that the investment accountant performs. When performing job functions, the investment accountant and work individually or within a team. The main functions usually include processing security investments, keeping accurate records of gifts and taxes, organizing loan reports, processing trades and recording trade activities, maintaining records of investments and third-party investment activities. They also perform appropriate reconciliation and control procedures to safeguard the investments, according to the Yale Financial Office. Overall, the functions of this job are highly focused upon organization, attention to detail, logic, analytics, and being able to practice a high level of privacy, as most of the information is usually only the business of the brokerage firm.
Licensing
To perform the duties of an investment accountant, one must receive certain licensing. While there is no specific, "investment accountant certificate," there are a number of accounting certificates that one can attain in order to perform this job. For example, many individuals who are certified financial managers or public accountants usually have the proper skills and educational background to handle this job. In addition to these two certificates, one can also have a Fraud Examiner Certificate or an Internal Auditor Certificate. The process of attaining these certificates can vary. Some require previous educational background, while others can be attained at a local community college, technical school, or university. It is just important to research the acceptance standards and to plan accordingly.
Related Resource: Environmental Accounting
Legal Aspect
While most of the information regarding investment accounting seems pretty straightforward, there is one aspect of it that can be a bit tricky, and that is the legal aspect. As an investment accountant, everything that you do much be done accurately and with complete adherence to the law. Different states and areas maintain certain investment regulations that must be followed when managing and investing for portfolios. The accountant is usually responsible for reporting the tax and transactions for the portfolios, and if something does go wrong, the accountant can be held legally responsible for failing to do things correctly. This can typically leads to monetary fines or even jail time.
Overall, being an investment accountant can be a difficult job, but it is also rewarding in a sense that you can review investments and watch portfolios grow. In addition, the skill set that you build and hone in upon can truly be beneficial in other areas of your career and life.