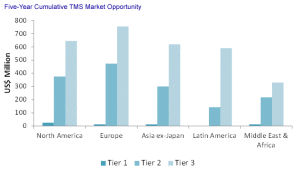 If you are interested in a career path in the dynamic world of corporate finance, then you may want to become a treasury analyst to work for the market's largest organizations. With the purpose of ensuring the financial well-being of a business and increasing profitability, treasury analysts are responsible for risk assessment, budgeting, financial modeling, forecasting, investing, and asset management. As investment portfolios are becoming more complex and organizations need in-depth financial knowledge of geographic regions to succeed, employment of treasury analysts and other financial analysts is expected to grow faster than average at 16% before 2022, according to the Bureau of Labor Statistics. Since competition is still likely to be strong for this high-paying role, the following is a step-by-step guide to become a treasury analyst with the best job prospects.
Complete at Least a Bachelor's Degree
In today's competitive business marketplace, it is virtually impossible to be successful as a treasury analyst without possessing a four bachelor's degree from an accredited institution. Most treasury analysts begin their academic career by earning a bachelor's degree in finance, accounting, statistics, business administration, or economics. During your undergraduate years, it is highly recommended that you take courses that specifically utilize the latest software tools in the financial industry, because computer-related skills are becoming a must. Also, beef up your schedule with courses in options pricing, risk management, bond valuation, quantitative reasoning, and financial analysis. Beyond the bachelor's degree level, many treasury analysts also decide to return to graduate school for completing a two-year master's degree in finance or a Master of Business Administration.
Earn Entry-Level Experience in Financial Analysis
Once you have completed a bachelor's degree program in a closely related field, you should start looking for jobs in financial services after graduation. In addition to utilizing job listings made available on the World Wide Web, be sure to attend job fairs to meet with recruiters on your college campus and make a trip to your school's career planning services for the best chance of landing a great entry-level position. Most treasury analysts start their careers by working as sales professionals, financial analysts, or fund managers. When you work for at least two years in financial analysis, you will obtain the analytical, communication, computer, decision-making, and mathematical skills that are needed for finding profitable investments.
Apply for Becoming a Certified Treasury Professional
In order to signify that you have the knowledge and skills required to effectively complete critical functions related to risk management in the treasury profession, you should consider joining more than 29,000 individuals who have become Certified Treasury Professionals through the Association for Financial Professionals. Although it is a voluntary process, it is suggested that treasury analysts take advantage of this opportunity to pursue upper-level career options and eventually earn higher salaries. Through AFP, there are online and on-site prep courses available that can prepare you for taking the examination at a designated testing center in your local area. After passing with flying colors, re-certification will be required every three years to stay current on the latest knowledge in treasury management.
Related Resource: Accounting Manager
Overall, treasury analysts are vital business professionals who manage their organization's budgets in accordance with financial goals, invest funds, and evaluate risk. When you follow these steps to receive the enhanced financial training that develops the skills desired by corporations in today's marketplace, you can become a treasury analyst to find abundant job opportunities in the nation's largest major financial centers.