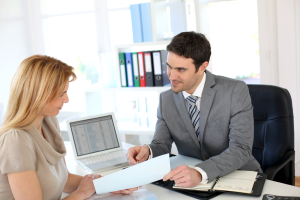 For individuals interested in starting a career in finance to provide people with advice on investments, taxes, insurance, retirement plans, and other important financial decisions, it is an excellent time to become a financial advisor. As a large number of baby boomers are reaching retirement and there are decreased funds for pensions, there will be a strong demand for financial advisors to help individuals plan their monetary resources for later in life. The Bureau of Labor Statistics has projected that the employment of financial advisors will skyrocket by the rapid rate of 27%, which will create 60,300 new jobs before 2022. In order to receive the training needed to fulfill these growing opportunities, read on for a step-by-step guide on how you can become a financial advisor.
Complete a Bachelor's Degree
Aspiring financial advisors will need to receive at least a bachelor's degree from an accredited higher learning institution with a major in business administration, finance, accounting, or financial management. Regardless of the chosen major, it is suggested that you fill up your schedule with courses that cover risk management, financial planning, investments, accounting, budgeting, and economics. While earning your degree, be sure to take advantage of all career development resources offered by your university and participate in an internship or co-op to gain real-world work experience in finance.
Receive Licensure to Practice
In most states, financial advisors are required to obtain one or more licenses before starting their practice in giving advice on financial decisions. Although specific licensure requirements tend to vary greatly depending on the type of assets you will be handling, most will consist of passing a qualifying examination. For instance, the Financial Industry Regulatory Authority (FINRA) will require you to pass the Series 7 exam to solicit or sell securities. Financial advisors also must become registered with the U.S. Securities and Exchange Commission (SEC) to allow the public to review their qualifications.
Apply for Certification
Applying for certification may technically be voluntary, but it is highly recommended that financial advisors become professionally certified to receive the best prospects for promotion. Advisors typically choose to earn the designation of Certified Financial Planner (CFP) after acquiring at least three years of full-time work experience related to financial planning. In order to receive the certification, you will need to take a certification exam that evaluates your financial knowledge and complete an ethics review. Maintaining the CFP credential also requires annual dues and ongoing continuing education every two years.
Consider Earning a Master's Degree
Many employers now prefer that financial advisors seeking more advanced managerial positions in the field earn a master's degree, such as a Master of Science in Finance (MSF) or an MBA with a concentration in finance. Most programs that have received proper business accreditation will allow you to tailor your curriculum towards specific career paths in financial planning, enhance your leadership abilities, and help you build long-lasting professional connections in the financial sector.
Related Resource: Senior Auditors
Unlike many other occupations in the financial sector that are facing heated competition, job prospects for qualified financial advisors are steadily growing at a fast rate. In fact, the U.S. News and World Report has ranked this as the #4 best business job for 2015! Once you follow these steps to become a financial advisor, you will be well-equipped for helping clients manage their money and stay on track towards finding good overall financial health.