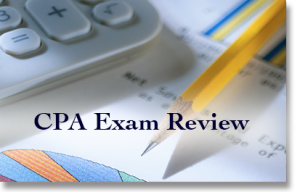 All test takers must prepare for the CPA exam well before their test date if they want to pass. With a pass rates of 47 to 51 percent in 2014 for each of the four sections of the test, you can see just how important preparation is. You can choose to use study materials, take refresher classes, or pay for tutoring through an independent agency to improve your chances of passing the Audit, Financial, Business and the Regulation sections of the uniform examination. Here are some valuable tips to study at home or to study with a group.
Review the Content Specification Outlines Before You Start Studying
Content Specification Outlines, also referred to as CSO's, are the definitions of the scope and the content that will be covered in each section of the exam. Before you can truly feel confident that you are prepared to sit for the exam, you should review the CSO and then outline your study schedule. There are outlines for each section, so you should review the appropriate outline based on which portion of the exam you are taking next.
Take Sample Tests At Home to Test Your Knowledge
Familiarizing yourself with the structure of the exam and how it is administered on the computer can make you much more confident. If you have test-taking anxiety or you simply like to know what to expect before you arrive to the test site, you can benefit from taking the guided tour tutorial offered by the American Institute of CPAs.
In addition to the tutorial, you can also access a sample test that will give you a preview of the testing experience. While the questions will not match those that are actively on the uniform exam, they will show you how questions are structured. You will be able to see how the test itself is formatted and what the interactive and intuitive environment will be like. The sample test will include samples question types on all of the content that is covered, so you ultimately will be able to see how knowledgeable you are in each area of the test so that you know where to focus your study time.
Take a Review Course
Many people have not attended school for years when they decide that they would like to earn their CPA credential. If it has been years since you have been in a classroom to study accounting, auditing, or finance, you may need to enroll in a review course to refresh. You can take review courses that are specific to the CPA exam and that will give you access to materials that will help you retain the information. Commercial materials may cost money, but they have been proven to help test takers improve their pass rates the first time around.
Related Resource: Become a Financial Advisor
It is very important to consume a small amount of information each day so that you can reinforce what you have studied daily. Make sure that you review the content outlines, study hard, and use study materials that have proven to be effective. By staying active, exercising the body and the brain, and rewarding yourself after stressful study sessions, you can push yourself to achieve your goals as you prepare for the CPA exam and a better future down the line.