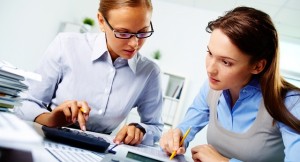 An accounting degree provides students with the practical knowledge and educational experience needed to excel as an accountant. However, many companies prefer candidates who have on-the-job experience, and the best way to gain this is through an internship.
What are the Benefits of an Accounting Internship?
Being an intern is the best ways to gain valuable work experience. Fortunately, almost every type of financial organization offers either part-time or full-time opportunities. Once accepted, an intern transforms their scholarly knowledge into practical skills and core competencies. During this process, the intern can establish a solid reputation of hard work and professional proficiency. Additionally, being an intern allows the student to network with other accounting professionals, which is very useful when searching for a job. It is important, therefore, that students understand where they might like to work as they decide which type of accounting internship they would like to pursue.
Audit Internships
Auditing internships are popular because they offer real responsibilities within real teams. For example, students learn how to conduct audits of key financial systems, evaluate audit procedures and make recommendations based upon the factual results. Audit interns are expected to carefully document all findings, draw out objective conclusions and prepare a detailed report for stakeholders. Audit interns may actually have the opportunity to work with real clients. Audit internships may include seminars, group projects and training and networking events. The ideal intern candidate will have a proven track record of strong scholastic achievement. Additionally, they must have excellent analytical, problem solving and teamwork skills.
Tax Internships
Being a tax accountant is another popular job for finance majors because these internships are available all year round. Since the demand for these professionals peak before and during tax season, students will be able to find rewarding jobs in both small businesses and large, well-established firms. The major activity of these interns will be tax document preparation. Therefore, they must demonstrate excellent interpersonal and communication skills with the company's domestic or international clients. Tax interns will be expected to prepare financial documentation, such as cash flow and profit and loss statements. In certain cases, the tax intern may assist with conducting research on new or upcoming laws that will affect their location.
Litigation Internships
Students who wish to become forensic accountants will typically seek internships with companies that perform litigation services. As a litigation support intern, the student will combine their investigative skills and financial knowledge to support lawyers during financial investigations. For example, this includes fraud, theft, embezzlement, company valuations and contract disputes. Litigation support interns will be expected to assess, interpret and induce factual data from complex sources. They will also be expected to provide attorneys with critical data in an accurate and timely manner. Litigation support interns must have excellent research, analytical and computer skills.
Where to Find Internships?
The American Institute of CPAs offers unique opportunities for interns through their website. The goal is to help the intern integrate practical applications with academic knowledge. Following the orientation, interns begin assignments under the guidance and supervision of experienced staff. Interns receive feedback through a one-on-one relationship with qualified mentor. There are sometimes mid-term and final evaluation meetings. In the end, the desired result is that interns experience what it would be like as a full-time employee in a similar position.
Keep in mind that some intern programs welcome candidates from diverse educational backgrounds. An accounting internship will provide the candidate with valuable insight into what it is like to work as an accountant.