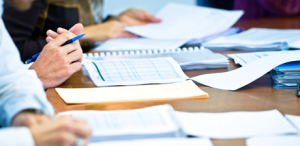 Students who love working with numbers often wonder what the salary of an auditor usually is. Auditing is a popular career choice for people who love math, but because of all the different and conflicting sources of information out there, it can be hard to find out what you'll make after college if you choose this career path.
The United States
If you decide to get an accounting degree, you'll probably end up working in the United States. According to the Bureau of Labor Statistics, there are more than a million auditors working in America. This means that the salary of an auditor may vary quite a bit – you can't expect more than a million people to make exactly the same salary since different companies offer different pay rates and benefits. On average, however, an auditor can expect to make around $34.86 per hour, or a little over $70,000 per year. Half of the employees in this line of work make under $65,000 ever year, and half of them make more than $65,000. Entry-level positions tend to pay less than average, but you can start to earn more money quite quickly if you're a good worker.
States
While learning about the average salary of an auditor in America is a great start, you'll want to look at average salaries in different states next. An auditor in California, for example, is probably going to make more money than an auditor in North Dakota. The most well-paying auditor jobs in the United States tend to be located on the East Coast. In fact, as far as salary goes, the five best places for auditors to work in are all near the Atlantic Ocean:
District of Colombia
Maryland
Massachusetts
New Jersey
New York
The average annual wage for auditors in these states is above $75,000, and the average hourly pay ranges from $37.32 to $42.40.
Cities
Even once you find out the average salary of an auditor for different states, there still may be quite a difference in pay depending on where in the state you decide to work. Because of this, you may want to get even more detailed by looking at what most auditors tend to make in different cities. Keep in mind that cities have different costs of living, though. For instance, Wichita, Kansas has a much lower cost of living than Los Angeles, California. Be that as it may, the highest paying cities for auditors in the United States include:
New York, New York
San Jose, California
Newark, New Jersey
Rockville, Maryland
San Francisco, California
Well-paying rural areas for auditors include:
Western and Central Nevada
Southwest Alaska
Los Alamos County, New Mexico
Related Resource: Non-Profit Accounting
Depending on where you work, who your employer is and how much job experience you have, you could make anywhere between $40,000 and over $100,000 per year. No matter what the average salary of an auditor in your chosen area is, though, you'll be able to live a comfortable lifestyle.