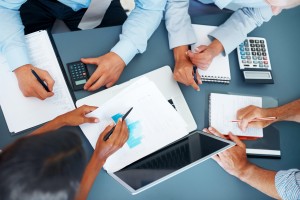 Accounting involves the process of analyzing and computing individual or business financial transactions. The work involves the monitoring and adjustment of financial records as it pertains to income, allocation and taxes, liabilities and profit and loss data. Accountants must be familiar with numbers and math, certain relevant computer software programs and be able to communicate effectively with clients. A proper education goes a long ways in procuring a professional position in the accounting field. The job outlook for accounting is far reaching and covers various fields of business, study and technology.
Requirements
Requirements for an accountant vary from state to state, but generally speaking, candidates must complete at least 150 hours within a semester of college coursework, with another 30 hours beyond the normal 4-years required of a bachelor's degree. Preferred education requires a bachelor's degree, and in some cases an employer might stipulate a Masters degree. Such advanced education provides the best opportunities in the field, although, at first, nothing more is required than a basic knowledge of math and a high school diploma to begin an internship program. Generally, 36 credits must focus on accounting, while 30 credits are allocated toward business and economics. To become a certified public accountant, applicants must pass a mandatory CPA exam which covers financial reporting and accounting, business concepts and environment, regulation and attestation and auditing. Computer and spreadsheet knowledge is mandatory in understanding graphic and text comparison and analysis.
Outlook and Prospects
According to the U.S. Bureau of Labor Statistics, an approximate 14 percent increase in the accounting field is expected from 2010 to 2020. This increase will be seen in government agencies, accounting firms and general business, resulting in about 280,000 additional jobs. The increase will be reliant upon more stringent government regulations and more emphasis placed on protecting employees and investors against fraudulent practices. This will lead to increased auditing frequency and practices in the growing economy.
Careers
Accounting firms will see the most job opportunities, although government agencies and niche businesses are also seeing a need for the accounting vocation. Rising areas of accounting will include environmental accounting, forensic accounting and consulting. Environmental accounting concentrates on areas of government regulations and the application of tax incentives. Forensic accounting deals with the exposure and elimination of white collar crimes, company theft and loss of unexplained income. Consulting accounting aids in improving and changing financial planning by implementing newer accounting strategies that improve financial performance and minimize waste and loss.
Salaries
As of 2009, The BLS recorded an annual salary for accountants in the $60,000 medium bracket. According to those in the top 10 percent of the field, over $104,000 was realized. The lowest in the income field, approximately 10 percent, received less than $38,000 per year. In 2006, the average salary range for the middle half of the occupation showed a range between $42,520 and $71,960. The highest paid industries in the field included the tobacco manufacturing industry, certain branches of the federal government, the commodities and securities field, laundry service, dry cleaning and the postal service. The highest paid states for accounting included the District of Columbia, New York, Maryland, New Jersey and Massachusetts. Entry level junior accountants earned $28,862 in 2007. Managers earned between $51,250 and $101,500, while directors and internal auditors realized $68,000 and $208,000; source; Career Planner.com; Accountants and Auditors; http://job-outlook.careerplanner.com/Accountants-and-Auditors.cfm
The growth of auditor and accounting jobs will be directly related to the influx of new businesses, changing regulations, financial laws and the increasing importance of company financial planning.
Accounting will always be with us to safeguard public and commercial assets, investigate white collar crimes, security fraud, bankruptcies, embezzlement and contract disputes. It will always provide a means of check and balances, ensuring fair and just practices within the business environment.