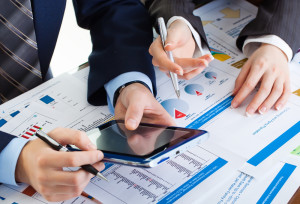 Business schools and graduate schools may both offer advanced degrees to students, but when you begin to compare each option you will find that there is a huge difference between MBA in Accounting and a Master's in Accounting. The type of advanced degree that you choose will depend upon the career that you are pursuing and also where you plan to go within the discipline. Learning about the similarities and the differences between MBA and master's programs majoring in accounting will help you plan ahead as you complete undergraduate study. Read on and learn the basics so that you can make a complex decision on your future.
What Does a Master of Accounting Program Prepare You For?
A Master of Accounting, which is often written MAcc, is a terminal graduate degree program that focuses entirely on the discipline of accounting. When you take an undergraduate degree program majoring in accounting or finance, you will complete general coursework and some foundation introduction courses that prepare you for more advanced classes later down the line. It is not until you enroll in a MAcc program that you take the advanced coursework that helps you develop your hard accounting skills, according to Young Money.
The program will teach you principles of business, because of the environment that you work in as an accounting professional, but the focus is on the practice of accounting and not business as a whole. Some of the coursework that you can expect to be required to complete as an MAcc student include: governmental accounting, accounting regulation, accounting theory, financial reporting, risk-based accounting, information systems, auditing, forensic accounting, corporate taxation, and more.
What Does a MBA in Accounting Prepare You For?
A MBA program is not a technical degree. Instead, it is a graduate-level business degree that will focus on advanced curriculum on broad topics that relate to business. At its core, an MBA program, even one that is focused on accounting, offers business as the primary area of study, according to GMAT. You will learn how to become a well-rounded business professional who is familiar with marketing, HR, finance, economics, and accounting. You can focus your business degree to cover more subject areas in accounting, but in the end the degree is a business degree that will cover less accounting coursework and less technical subject matter.
Which Degree Program is Right For You?
There is not a single program that is right in every case. The type of advanced degree program that you take needs to be based on your career goals. If you want to become a CPA and you would like to study and prepare for the exam, a master's level course is ideal. If you would rather work as a business leader within an accounting department, you will learn more about business and leadership with an MBA. This is something you need to decide before you even start to apply to business or graduate schools.
Related Resource: Sports Accountant
In order to gain entry into an MBA program, you will need to meet educational prerequisites and also have professional work experience. If you would like a MAcc, work experience is not a consideration, but you must have an accredited degree in a related field. Now that you know the difference between MBA in Accounting and a Master's in Accounting, you can decide which path is best