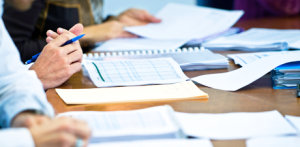 In order to become an auditor, in most cases you need a bachelor's degree in accounting, auditing, finance, or a related field. If you're interested in a career working with both people and numbers, and you are looking for a good salary with stable projected job growth, auditing is probably a great choice for you. Read on to learn more about a career as an auditor and how to break into this lucrative field.
Becoming an Auditor
As mentioned above, a bachelor's degree in accounting or a closely related subject is typically required to obtain an entry-level job as an auditor. At some colleges or universities, you may even be able to find a program that specializes in auditing specifically. Some employers also look for candidates with a master's degree in accounting or business administration, while others will train candidates who have an associate's degree in bookkeeping or a related field along with several years of experience. In addition to formal education, you can also seek out a professional certification to be more attractive to employers. For example, The Institute of Internal Auditors offers a Certified Internal Auditor certification to those with at least two years experience in the field and who have graduated from an accredited college or university. Another organization, ISACA, has a certification program for those with five years experience who pass an exam.
The Job of an Auditor
An auditor is a financial professional whose role is to review financial reports and statements and determine whether or not they are free of error. He or she establishes that the facts presented are relevant, reliable, complete, classified and recorded correctly, and free of other types of mistakes. This is done using an established set of professional standards that exists throughout the finance field.
Personal and Professional Qualifications
Beyond your schooling, there are certain skills and attributes you should cultivate if you're interested in the profession of auditing. The ideal auditor possesses not only keen analytical skills, math skills, and attention to detail, but the ability to work closely with and communicate ideas with a wide range of departments and professionals at all levels of the field. While this is typically a 9 to 5 job, some overtime may be required, so dedication is a must.
Salary and Job Outlook
According to the U.S. Bureau of Labor Statistics, the average annual salary for auditors is approximately $63,550 per year. Pay tends to be highest in finance and insurance positions, followed by manufacturing, management, and government positions. This is also a great career if you're looking for stability. Jobs for auditors are expected to increase by 13 percent by 2022, representing more than 166,700 new jobs in that time period.
Related Resource: Become an Enrolled Agent
If you'd like to become an auditor, consider getting in touch with a person who has this role at a local company and learning more about what their daily job duties entail.