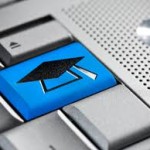 If you are planning to major in accounting,  there are several different online accounting programs that have earned quite the reputation among students and professionals in the field. With new distance education technologies being developed on a regular basis, and more and more employers perceiving students who study online highly, accounting degree programs that are delivered online are becoming extremely popular. While there is no denying the fact that you can attain a degree online, not all online accounting degrees are created equal. If you want to study to become an accountant, there are a few things you need to research.
Choosing an Accredited Program
There may be a variety of different accounting degree programs advertised on the Internet and via commercials, but not all of these degrees will take you places within the field of accounting. If you are serious about being an accountant or testing for your CPA, you need to set aside time to research programs before you make a choice. The first step to finding the best possible program in accountancy is to search for programs that are regionally or nationally accredited.
Traditional schools are typically accredited by one of six regional agencies, which are all recognized by the U.S. Department of Education. These schools, which are both public and private institutions, may offer online programs in accounting, but it is more common for schools offering programs fully online to be nationally accredited. Because There are national bodies that set unique standards for schools dabbling in distance education, since the field is so unique. One of these national bodies is called the Distance Education and Training Council, which grants credentials to schools that offer high-quality programs entirely online.
Choosing a Program with a Good Reputation in Accounting
While regional or national accreditation is important when you would like to earn transferable credits or apply for financial aid, you must also consider applying to a school that has earned a programmatic accreditation in accountancy. Many professionals who are studying accountancy plan on eventually sitting for the uniform CPA exam. If this is something that you plan to do in the future or something that you are pondering, you need to select a program that has earned a specialized accreditation through the Association to Advance Collegiate Schools of Business. By holding this specialized and professional accreditation, you will have peace of mind in knowing that the curriculum will prepare you for the field and for the CPA test. According to the Association to Advance Collegiate Schools of Business, only 5% of the world's programs have the AACSB credential, which makes it important to do your research.
Related Resource: How Long Does an Online Accounting Degree Take
If you are interested in finding the highest quality programs, start by searching for programs based on accreditation. You can search for programs via an agency's searching tool, or you can refer to a school's website directly. Whatever program you choose to attend, make sure that you have realistic expectations and plenty of time set aside for studying. While you can study from the comfort of your own home, it is still a major time commitment and you will need to be an independent learner to eventually graduate. An online accounting degree is attainable, but be practical and choose the right program.